---
This is one of our kitchen projects: keeping some of the same existing cabinets, removing the island and built in oven cabinets. Building new cabinets to match existing, approximately 64sq feet, installing new vent hood and range, new gas line, new 30 foot, 7 inch diameter exhaust pipe, new 3 compartment stainless sink with granite on counter tops, changed all old lights to recessed flood lights with under mount cabinet spot lights, 18 X 18 ceramic tile floor, and all new fixtures.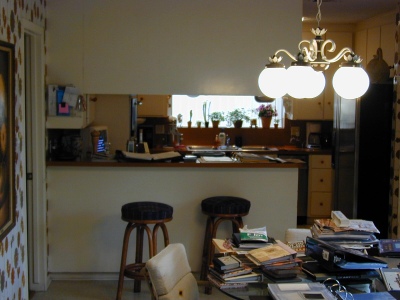 Before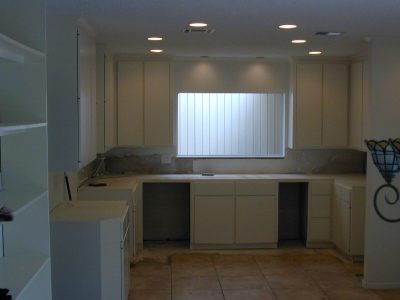 After
---
Utilizing Kitchen Space
We are adding more cabinet space to the following kitchen for cooking and plastic container space. One area that will be changed is the island - we are attaching taller cabinets to it, making more drawers for the top burner areas and adding a decorative ornament (colbars) to each end. A photo of the completed projects will be shown soon.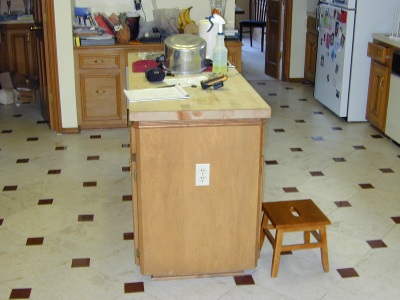 ---
Another Kitchen Project
In this kitchen, all the doors were refaced with new molding, new granite counters were installed, new tile splash was added, and a complete new paint job was done. We also built a separate area for an office desk.
| | |
| --- | --- |
| Before | After |
---
This Memorial kitchen was separated from the breakfast room. KJM opened the wall and built an Island Counter Cabinet. KJM also installed a pop up down draft.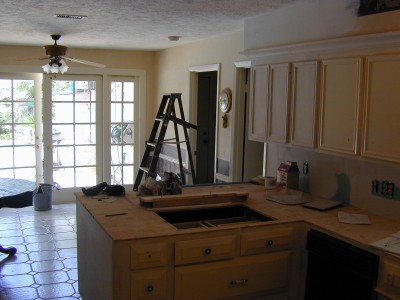 ---
We also do small jobs. The following is an example of a tile splash job in progress.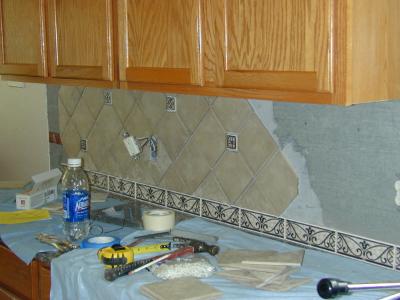 Baths
We remodeled the master bathroom in this 1980's house. We removed the tub, and enlarged the shower to a 4 X 6.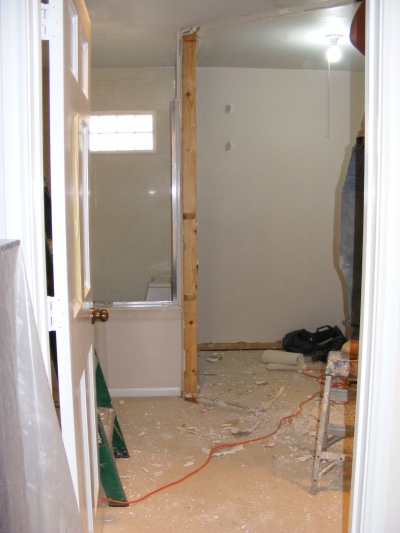 Before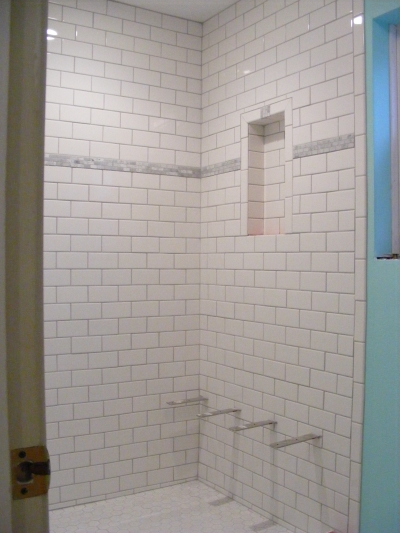 After
---
The master bathroom had a small 3 X 3 foot area for the shower. We expanded it to twice the size installing a seat, handheld shower head, glass shelves, and a frameless glass door in the shower.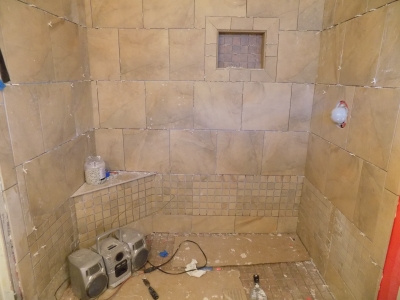 Before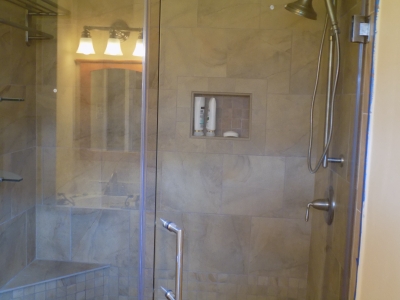 After
---
The hall bathroom in this 1980's house was never remodeled. We stayed with the wainscoat wall tile, and replaced the vanity with a new closet and sink vanity. All products in this project were Kohler products.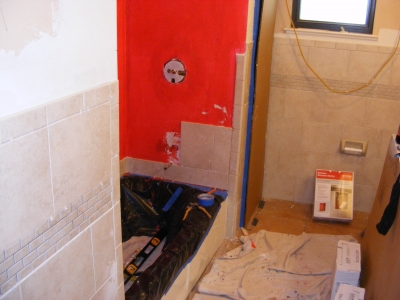 Before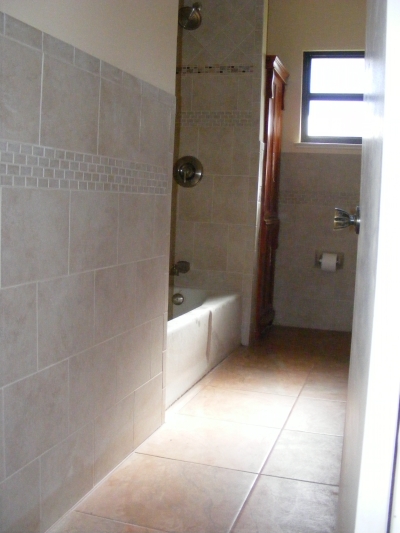 After
---
The customer wanted a more open look. It was crowded before with a closet attached to the shower area. We removed two walls, and that was really all it took to open it up.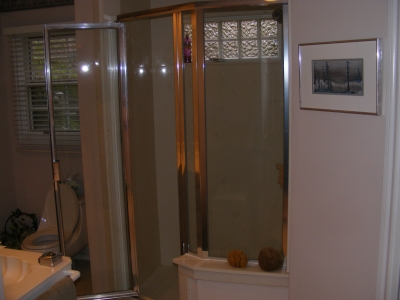 Before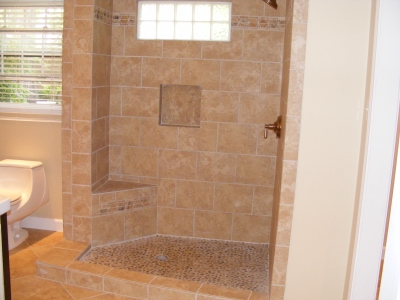 After
---
The Master Bathroom was 7ft wide by 9ft long - very small. We wanted to open it up more and we did that by using lighting and installing a small pony (half height) wall between the vanity and the tub with tempered glass. For the vanity, we installed a pedistal sink with a black wrought iron frame on the botton, and shelving for towels. It really opened up the bathroom.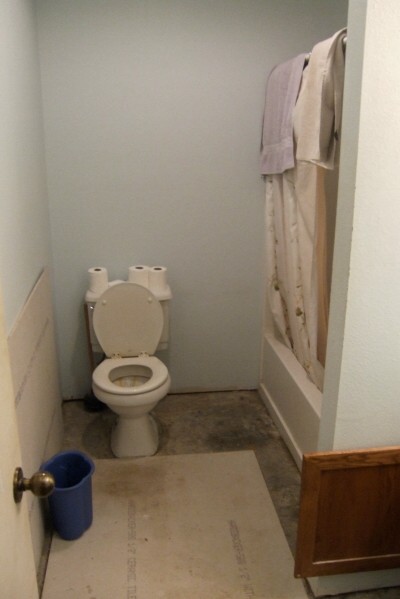 Before
| | |
| --- | --- |
| After | After |
---
The customer had a small tub in close quarters and he wanted a larger area but was limited by the closets on each side. KJM suggested a window above the tub to bring in light and a garden tub to replace the small standard tub. The garden tub is wider and deeper giving it the feel of a larger area.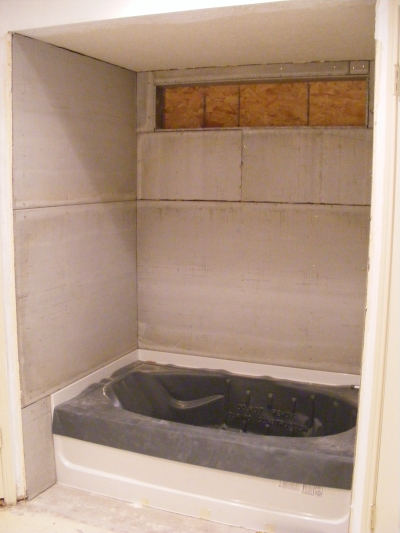 Before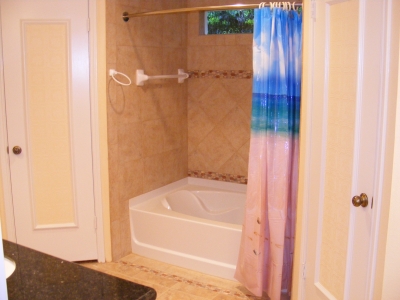 After
---
What the customer wanted was to get a fresh look. KJM Construction removed old sheetrock furdowns, wallpaper and the tub. Also resheetrocked, and upgraded with vanity top cabinets, tub, comode, and tile throughout.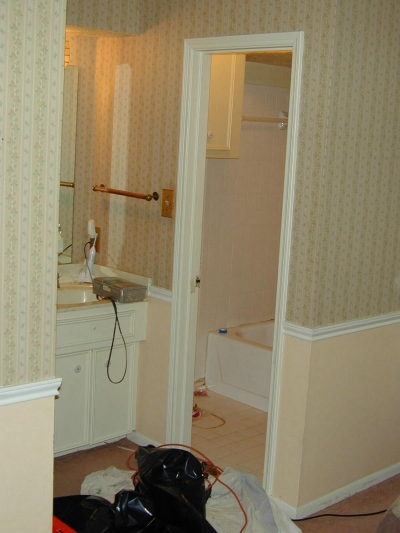 Before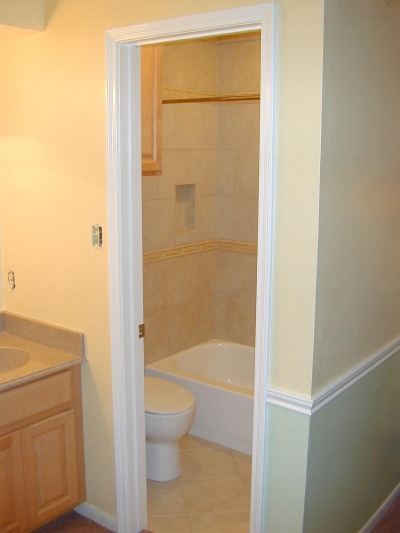 After
---
This 350 sq. ft. bathroom has a kolhler tub and a bookmatch granite with a built in cabinet and an enclosed shower.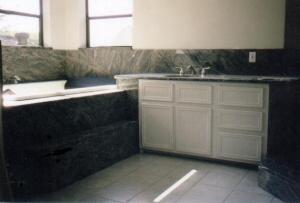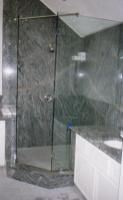 One job this year was an appoximately 400 square foot bathroom. Here are some before/after pictures.
---
---
This is one of our latest completed bathrooms. The bathroom was dark and had low ceilings (see picure at left). We raised the ceiling, installed a 3 X 4 window, and removed and replaced the tub and tile. The customer came up with a good idea to add an arch to give it a unique look (see picture at right).
---
This master bathroom was completely done in slate (floor and shower) with black granite counter tops, gray slate, and an enclosed glass shower with custom fixtures.